Testimonials & reviews
Dear Gentlemen, here we are happy to present you the testimonials of the members who have found their soulmates with help of our Agency.
Here they express their opinion, experience and suggestions for those who are looking for a second half in another country, as well as appreciation to the company and staff.
Please read our ladies' testimonials about UaDreams, reviews of our agency as well — they are also very happy to be with our agency! Some ladies' testimonials you can also find in How we take our ladies photos.
We are so proud of what you, our dearest members, are saying about us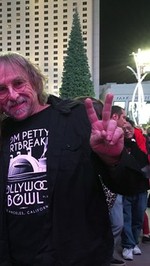 Matthew / USA
13 September 2019
trip to Sumy
Matthew: I am very happy to have made the effort to come to Ukraine
I have been very impressed with the service I have received from Ua Dreams. The lady that I came to see, was beautiful beyond my dreams! I am very happy to have made the effort to come to Ukraine to meet her. I hope to keep in contact with her when I return to USA.
Also, the manager and staff were extremely helpful in organizing my trip. Our translator, Katya, was incredible. She was excellent at understanding and translating our conversation, and helping us to relax and be at ease. She certainly went above and beyond to help with other practical matters a well.
Over all, I am very pleased with all of the services I received!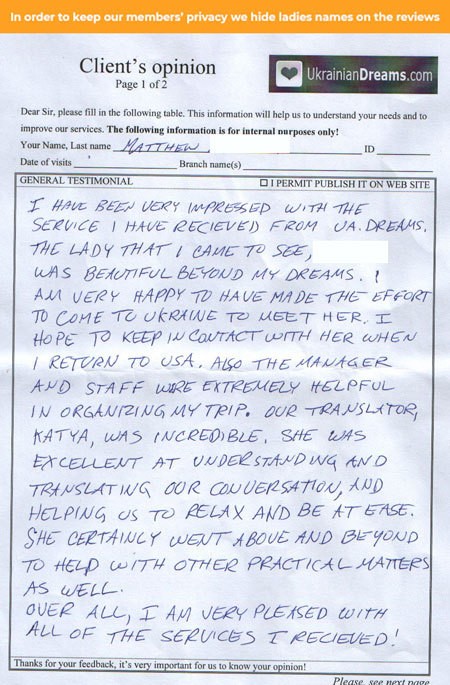 Leave testimonial about UaDreams

John / USA
23 Aug. – 2 Sept. 2014
trip to Kharkov
John: I hope I can convince her soon to become my fiancee
The quality of the service at the Merefa branch of UA Dreams was simply outstanding. From the time I made the decision to travel to Ukraine in search of my special lady, the agency handled everything to the last detail. They responed to all questions in a timely manner. The hotel accomodations were the best. All amenities with wonderful restaurant and friendly helpful staff.
The interpreter Veronica, I cannot say enough about her. She was wonderful and we actually became friends. I felt I was able to talk to her about everything. We learned from each other quite a lot as she had many questions about life in America as well. She showed me many wonderful sights in and around Kharkov. It is a beautiful city and I was very impressed. I definitely would like to come back again some day.
I met with three ladies during my stay. They were all very nice however there is only one lady that I will see again very soon. She is the most elegant, beautiful lady I have ever met. She is quite remarkable as far as goes from not speaking much English to already been able to converse with me quite well. I hope I can convince her soon to become my fiancee.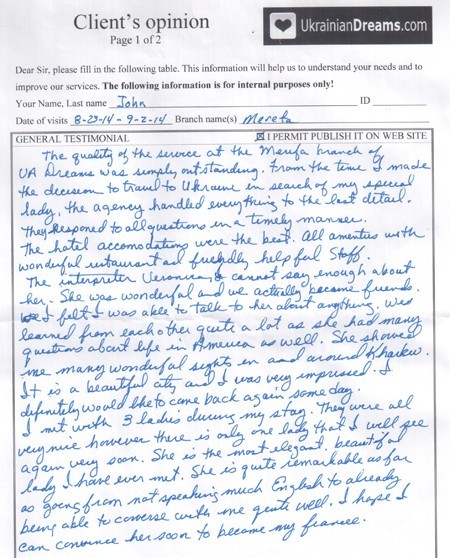 See what our clients say
Nataliya, 23

Alina, 29

Alena, 28

Julia, 30

Tanya, 19

Olga, 52

Yanina, 20

Karina, 21

Anastasia, 31

Alisa, 19

Nata, 25

Nataliia, 23

Anna, 30

Margo, 20

Julia, 37

Yana, 33
More 900+ ladies
Support questions
Support: Hello, Javier!
Any problems?
You: Goodevening, You have pros and cons of ukraine bride